1. The enigma that is Zlatan Ibrahimovic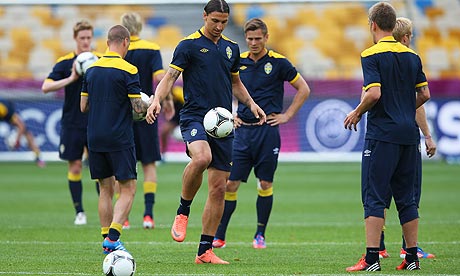 England's biggest problem. Ignore the stats that show he has scored only three times in 15 appearances against English sides, anyone who watched Ibrahimovic against Ukraine on Monday will know that he is
Sweden
's most dangerous player by a mile. He scored, hit a post with a header and set up a wonderful chance that the substitute Johan Elmander should have converted late on to earn Sweden a point.
This is not the Ibrahimovic that England have come against in the past. He no longer plays as a main striker for his country and instead operates in a deeper role, where he is deployed behind a lone forward and given a lot more freedom. It means that Ibrahimovic is far more involved – he made more passes against Ukraine than the Sweden wingers, Sebastian Larsson and Ola Toivonen, put together and three times as many accurate passes as Ashley Young managed in the same position against France. Ibrahimovic, in other words, is central to everything that Sweden do as an attacking force.
The dilemma for England is how to stop him. John Terry and Joleon Lescott would have a straightforward task if Ibrahimovic was playing as an orthodox centre-forward but they will not want to be sucked out of position and come into midfield areas to pick him up as it would leave space behind them to exploit and mean that the other central defender is left one on one with Markus Rosenberg or Elmander, depending on who starts up front for Sweden.
All of which means that Scott Parker and Steven Gerrard, assuming they start as England's two holding midfielders, will have to be relied upon to track the Milan forward on occasions. There will be other times, closer to the penalty area, when they will need to pass Ibrahimovic on to Terry and Lescott and it is imperative there are clear lines of communication when this happens, which was something that was lacking in the Ukraine defence when Ibrahimovic hit a post with a header. Oleh Gusev, the left-back, and Taras Mikhalik, the central defender, were left looking at each other wondering where Ibrahimovic had come from and who should have been marking him.
2. Set-piece specialists
Sweden conceded from a set piece against Ukraine, when Andriy Shevchenko scored his second of the evening with a superb header at the near post, but Erik Hamren's side carry a major threat of their own from dead-ball situations. They have the tallest squad in the tournament and several players who can deliver a ball on a sixpence to make the most of their height advantage.
Larsson, who was disappointing against Ukraine and may lose his place against England, is well known in the Premier League for his vicious deliveries and shooting prowess from free-kicks but Rasmus Elm, the rising star of Swedish football, is their main man when it comes to set pieces. As well as being decent with the ball at his feet, which he demonstrated when he picked out Ibrahimovic for his header that hit the upright and also with the late chance that he created for Olof Mellberg, Elm has a long throw-in that will make the Olympiysky stadium in Kiev feel like the Britannia at times.
Ibrahimovic is a towering figure and will need to be tightly marked, as will the two central defenders, Mellberg, who is 6ft 1in, and Andreas Granqvist, 6ft 4in. How quickly England react to "second balls" from set pieces will also be crucial; they will certainly need to close down midfielders waiting on the edge of the area much quicker than they did against France.
Should England need further evidence of how dangerous the Swedes can be on set-pieces, the 2006 World Cup provides an unwelcome reminder. England were twice in front against Sweden in their group game in Cologne but were pegged back when Marcus Allback equalised from a corner and Henrik Larsson bundled in a stoppage-time leveller from a long throw-in.
3. Suspect defensively
One major source of encouragement for England should be how easily Ukraine opened Sweden up. Sweden were overrun in midfield for much of the first half and hanging on at the back at times, with only Ukraine's profligacy sparing them in the opening 45 minutes. Hamren was so angry that he described his players as "cowards" for their first-half performance.
It is easy to imagine Danny Welbeck having some joy against Mellberg and Granqvist. Shevchenko is hardly Usain Bolt but a simple give-and-go in the first half enabled him to get away from Mellberg, who will be 35 in September, and he should have done better with the shot that he dragged across the face of the goal.
Mikael Lustig, the right-back who has been criticised for failing to guard the near post when Shevchenko scored his second, has struggled to hold down a regular place at Celtic through a combination of injury and poor form, although it is possible that he will be dropped against England. On the other flank is the Blackburn full-back Martin Olsson, who is quick and likes to get forward but, as a result, can leave space in behind him and the central defender closest to him exposed, which was something that Ukraine exploited in the first half.
It seems likely that Hamren will try to offer more protection to his defence by bringing in Anders Svensson, a more natural holding midfielder, alongside Kim Kallstrom and playing Elm further forward, at the expense of either Larsson or Toivonen. Svensson, who spent four years with Southampton, is a decent player but he turns 36 next month. Whatever happens, England will need much better end product from Ashley Young and James Milner to provide Welbeck and Andy Carroll with the service they need. Otherwise Sweden's shortcomings will count for little.